Compass Group is Australia's largest food and support services company driving ethical and professional services standards. We proudly have over 11,000 talented people serving up great tasting food and delivering vital support services every day to our clients across Australia.
Providing world-class food and support services to our clients in Australia for more than forty years, Compass Group has the expertise to make great experiences happen. We partner with our clients to create tailored service solutions that deliver quality and value for money for their customers and employees.
Delivering each and every day
Hundreds of thousands of people around Australia rely on us to not only provide their breakfasts, lunches and dinners but a full range of support services. As more and more organisations are choosing to outsource their food and support services to us, we retain our focus on disciplined, sustainable growth to meet their needs.
Globally, we bring together the combined strength of a Group which operates in 45 countries, with more than 600,000 employees, to deliver the same superior standards of service globally, daily, personally.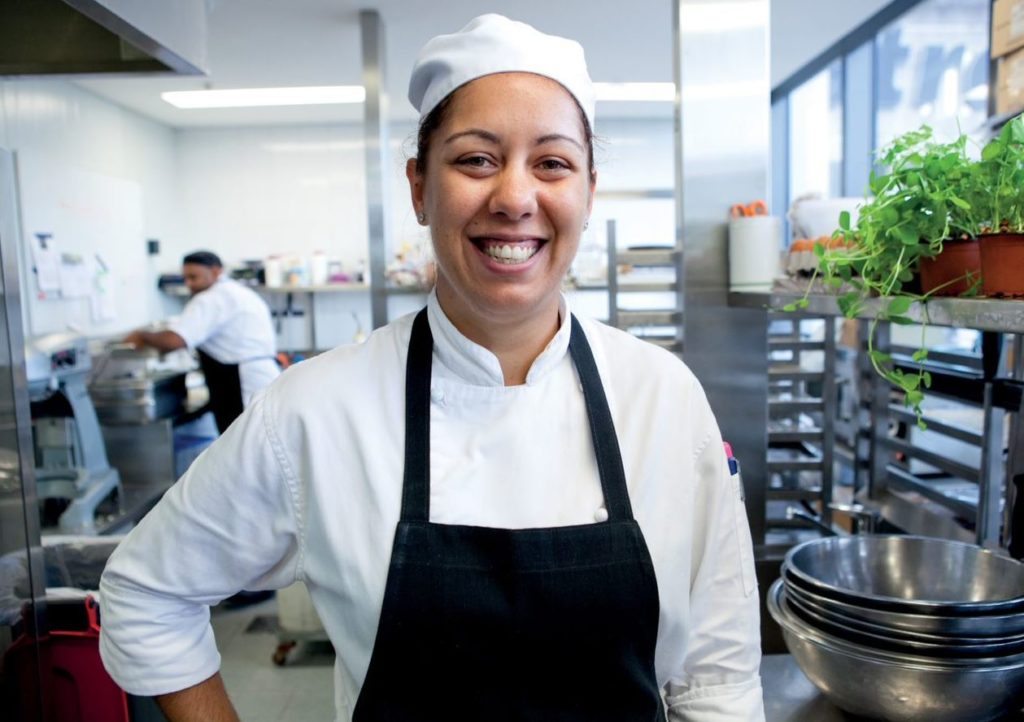 Openness, Trust and Integrity​
We set the highest ethical and professional standards at all times. We want all our relationships to be based on honesty, respect, fairness and a commitment to open dialogue and transparency.
Passion for Quality
Win Through Teamwork​
Responsibility
Safely Can-do ​
With decades of industry experience, our Executive Team steer our business.
In a company that serves so many different markets, we're fortunate that our Executive Team bring vast sector experience to the table. Strategically located throughout Australia, the team not only gives Compass Group Australia a broader standpoint on the world of business, but a strong customer-led perspective so that we can best serve our clients.
Jo Taylor
Managing Director
John Sheridan
Executive Director - Offshore and Remote
Michael Lambourne
Executive Director - Defence, Education and Business & Industry
Jeannine Biviano
Executive Director - Healthcare
Jo Vaughan
Executive Director - People and Safety
Andrew Brightmore
Executive Director - Foodbuy
Denham Mack
Executive Director - Finance, Legal and Technology
Brett Craig
Executive Director - Growth
Ben Graham
Executive Director - Business Transformation
A global and local passion for food
Our executive chefs are industry specialists who take pride in showcasing their skills, creating delicious and constantly evolving menus for our clients and customers. Whether the focus is on nutrition, menus designed with environmental concerns in mind or offering a menu prepared by a world class celebrity chef, we can fit any requirement. 
Critically important at Compass Group
Our Health, Safety, Environment and Quality policies are unequalled in the catering and support services industry and we take the utmost care to reduce the risk of incidents and injuries in the working environment, and to make sure that we maintain the highest standards of food hygiene and safety.
Every day, we see that great food, great service and great experiences have the power to transform everyone's day. Across the country, our amazing people create outstanding restaurant experiences, fuel busy workers, enhance events and support many thousands of schoolchildren, patients and military personnel.
We have the opportunity to enhance the wellbeing of millions and deliver services to make everyone's day that little bit brighter. And we are committed to doing all of this responsibly. 
As leaders in the food and services industry we want to ensure our business decisions are ethical and reflect the standards that our customers, shareholders and employees expect of a global organisation.
We are committed to setting the highest standards for responsible business practice which are underpinned by a global framework of policies and measures and are implicit in our Code of Business Conduct, Code of Ethics, Human Rights Policy and our Modern Day Slavery Statement.
Our policies establish a clear framework setting out the standards we expect. This is supported by comprehensive communications and training, designed to ensure that processes and practices within each of our operating units fully comply with local legislation as the minimum requirement and with Group policies. 
People are at the heart of who we are at Compass Group and we all deserve to be treated fairly and with respect in the workplace. We empower our people to speak up via our Speak Up We're Listening hotline if they see something that isn't right and we have a Speak and Listen Up policy.
Read our Purchase Order T&Cs.
Read our Privacy Policy.
Everyone Together
Our business is diverse and so are our people. That's what makes us great. We want our workplace to reflect the community at large and encourage people of all backgrounds, ages, abilities and sexual orientation to apply for roles with us. We actively promote inclusion and seek to create a workplace where everyone has access to resources, opportunities and rewards.
Our Diversity and Inclusion strategy focuses on 4 key pillars: First Nations People, Disability, Gender Equity and Pride.
Our social & environmental commitment
Our rigorous Supply Chain processes, systems and continuous improvement strategies drive compliance to our quality and ethical framework for both approved suppliers and products.
Our sustainability focus includes:
Engaging indigenous business
Reducing waste
Animal welfare & environmental impact reduction
Our adoption of the Modern Day Slavery Act