Marking a Milestone of 30 years

30 years with the same employer is hard for many people to comprehend in today's society. 30 years of service shows amazing dedication and loyalty – as well as a love of the job and company – and not too many employees or companies are lucky enough to make that mutual decision to stay together…

Scott Mills is one such individual that has consistently gone above and beyond over the last 30 years with Compass Group. From Tasmania, to South Australia, to the Northern Territory, Scott has taken on new roles and challenges, and says his job has certainly changed over the past 3 decades.  
"My role has definitely changed as the times have changed. With the introduction of technology over thirty years, we've gone from from pen and paper and thermo paper fax machines, where the image would disappear after two months, to internet connections and now where everything is real-time reporting."
"Health and Safety has certainly moved forward too, especially in food safety and the introduction of HACCP and allergens," says Scott. "When I was working as a Chef at Moomba in the early '90s, I was asked to trial steel cap boots before they became mandatory for everyone to wear, and this worked well until another Chef threw an A10 can of beans at my foot to see if they worked, but missed the steel cap and hit the top of my foot!"
Meeting some great people over the years, Scott says it's the staff that make the job worthwhile.
"As a site manager, I've needed to be able to adapt and wear different hats for different occasions," he says. "One minute I might be counselling staff or assisting someone with a personal problem, the next I can be sorting a banking problem. But, no matter what, the best thing about the job is the people I work with."
And the key to companies keeping such great staff? "Always respect your greatest asset, the people working for you," shares Scott. "Without our services many of our clients could not operate. We make up part of their industry by contributing in a different way to achieve the same objectives."
With many memorable times over the last 30 years, Scott says his favourites have been the opportunities to work at other sites as a fill-in for short periods, such as Moorebank in Sydney and Tangguh LNG in Papua and most importantly have his family with him. "It's been so good to see how things are done differently. These past 30 years would not have been possible without the support of my family. When I've moved to another site, I've had to relocate to be closer to my job. So, from Tassie to Adelaide, Alice Springs and now Darwin, my family have been with me and I am so lucky in that regard."
When we asked Scott's advice to someone starting their career, his wise words show just what kind of passionate man he is, "Never be scared to ask questions and never give up an opportunity to learn more." Always thinking of others, Scott recently suggested that for future employees achieving significant service milestones, a certificate should be considered. We're happy to share, that thanks to his feedback, we have implemented this and decided to give Scott a certificate too. Congratulations and thank you for your service Scott. Compass Group would not be where it is today without your hard work, commitment and excellence.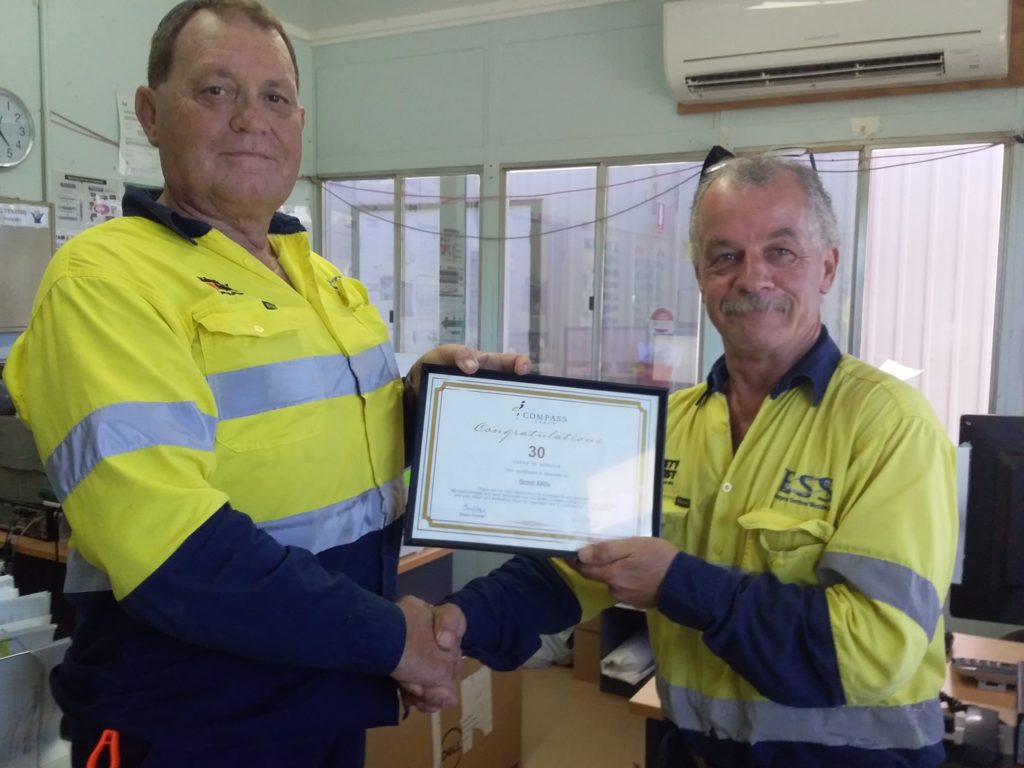 Interested in a career a Compass Group Australia? Click on our Careers tab and find your next opportunity.